The standard EF Interior Panels are recessed around the Gondola Upright in order to flush against the Upper Shelves of the Gondola.
The recess is positioned for equal Base Shelves, or optional Offset Base Shelves. Gondola Base End Covers are not required if a Metal End Flat (PAPMEF) is used. EF cannot be used with Hypermaxi System.
Gondola End Display Merchandisers are a great way to create more exposure for products or merchandise that can be possibly slow moving or on sale.
What is the difference between Gondola Store Shelving and Wall? The Gondola shelving is also called Gondola Island Shelving. Using the term island the Gondola Shelving stands in the center of the floor on as a island type product display. The wall shelving is store shelving that is installed against a wall.
The least expensive way to add an end cap to an existing Gondola island is to add a wall section either 36 inches wide or 48 inches wide to meet the specific needs or the particular store
---
To make sure you receive the correct Gondola End Display Merchandiser, you must measure your existing Gondola Island Shelving height and deck width. Below are measurements that need to be correct.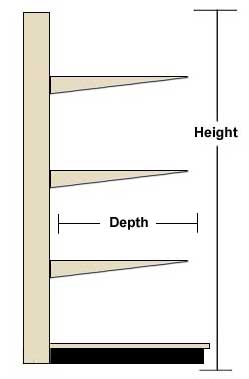 Shelf depths start at as small as 8" and run as deep as 30" deep
We have base shelf depths that start at 12" deep and standard upper shelf depth that start at 12" deep with 8" deep and 10" deep upper shelves by special order.
Standard upper shelf depths that are as deep as 24" and up to 30" deep by special order.
Standard heights start at 36" high and run as high as 96" high with heights as high as 12' high by special order of with the use of extension uprights.