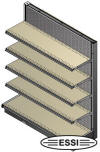 A Wall Section of Gondola Store Shelving includes one Basic Upright with Cap, one Base Shelf, one Kickplate, one Back Panel and one Top, Center, and Lower Spanner. If the Gondola is 78" tall or taller, the section would also include one Splicer Spanner.

A Gondola Section includes one Basic Upright with Cap, two Base Shelves, two Kickplates, two Back Panels and one Top, Center, and Lower Spanner. If the Gondola is 78" tall or taller, the section would also include one Splicer Spanner for two piece backs.
---
| | | |
| --- | --- | --- |
| Available in 3' and 4' widths, 8" to 30" depths, two and 3 position in either a flat position, 15 degree or 30 degree down slope. | The solution for maintaining separation of school, office and art supplies. Dividers are 3 3/4" wide x 7 3/4" high x 6 3/4" deep. The dividers clip into front shelf perforations. Minimum product width is 6". End dividers are sold separately and in pairs. | Heavy gauge steel wire construction, powder coated for long life and extra wear constructed for Potato Chips in a Grocery Store, Candy, Bed Linen, and more. |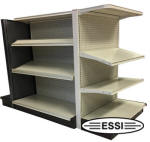 The typical Gondola End Cap consists of a single sided section in a double back configuration. This is the most cost effective configuration that provides the strengths of a typical gondola shelving system
---
CD DVD Displays & Merchandisers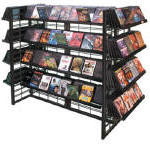 CD DVD Displays are the lightweight alternative for merchandising movie DVDs, music and, software CDs for rental and retail sales
---
Pegboard, Slatwall, & Gridwall Display Hooks & Accessories

All types of product display hooks, slatwall hooks & shelf brackets, gridwall hooks, waterfall displayers, adjustable knife brackets, tube brackets, waterfall hangers and a whole lot more. click here
---

Triple Clipper Counter Display Features: • 3 Rows • 13 Clips per row? • Displays products on both sides? • Holds 39 items Size: Triple strand - 24"H x 15"W x 10½"D Color: Almond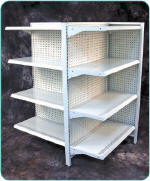 This versatile fixture gives maximum exposure to impulse items. Panel frames are slotted to accept all Madix Standard Shelves or accessories. The Laminated or Carpeted Deck is 5" high, plus the deck has 'T' mold edge to match kickplate.
---

5-Tier Merchandiser Features: • 5 Tier counter top display • Shelf depth ranges from 4½" to 8½" • Each tier includes welded sign channel 14"W x 1½"H Size: 21"H x 15"W x 9"D Color: Black Case.
---
Gondola Standard & Optional Colors

Many standard and optional colors available for Gondola Store Shelving to choose from: Sahara, Chocolate, Gray, White, Black, and more.

Click the link above for a detailed installation movie that shows you how to install your new display shelving.
Gondola Uprights Half Uprights Upright Extensions

-

Gondola Uprights, Half Uprights, and Upright Extensions available for existing Madix Shelving Units.